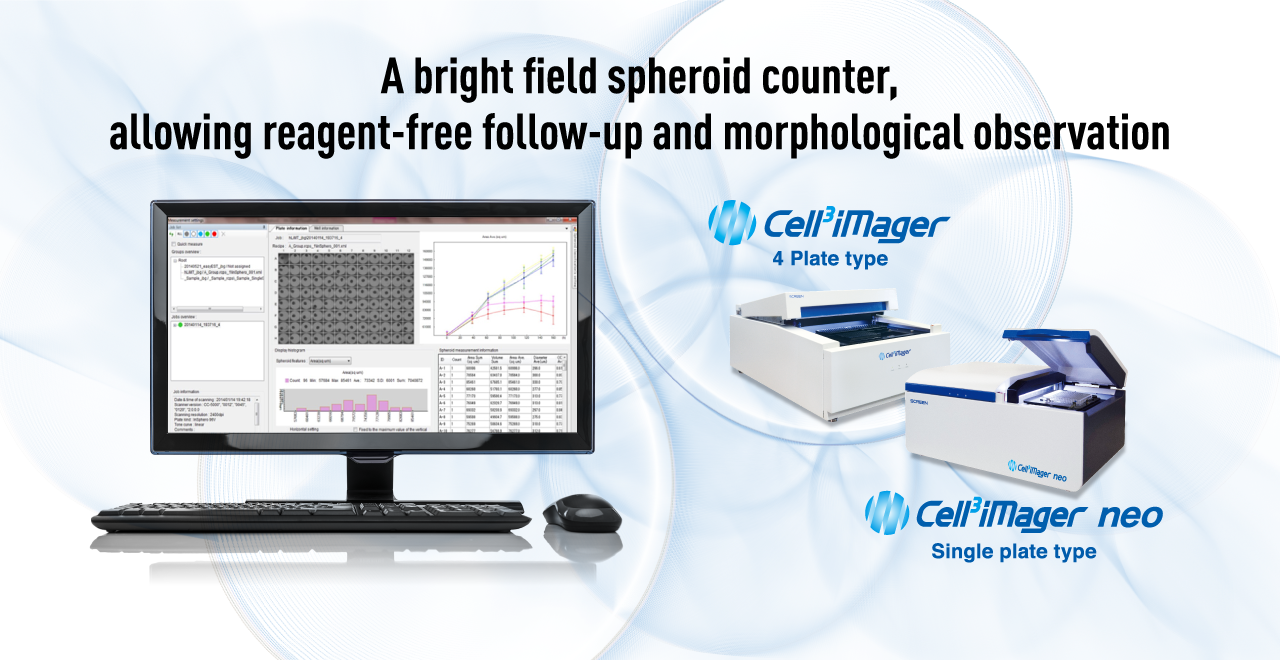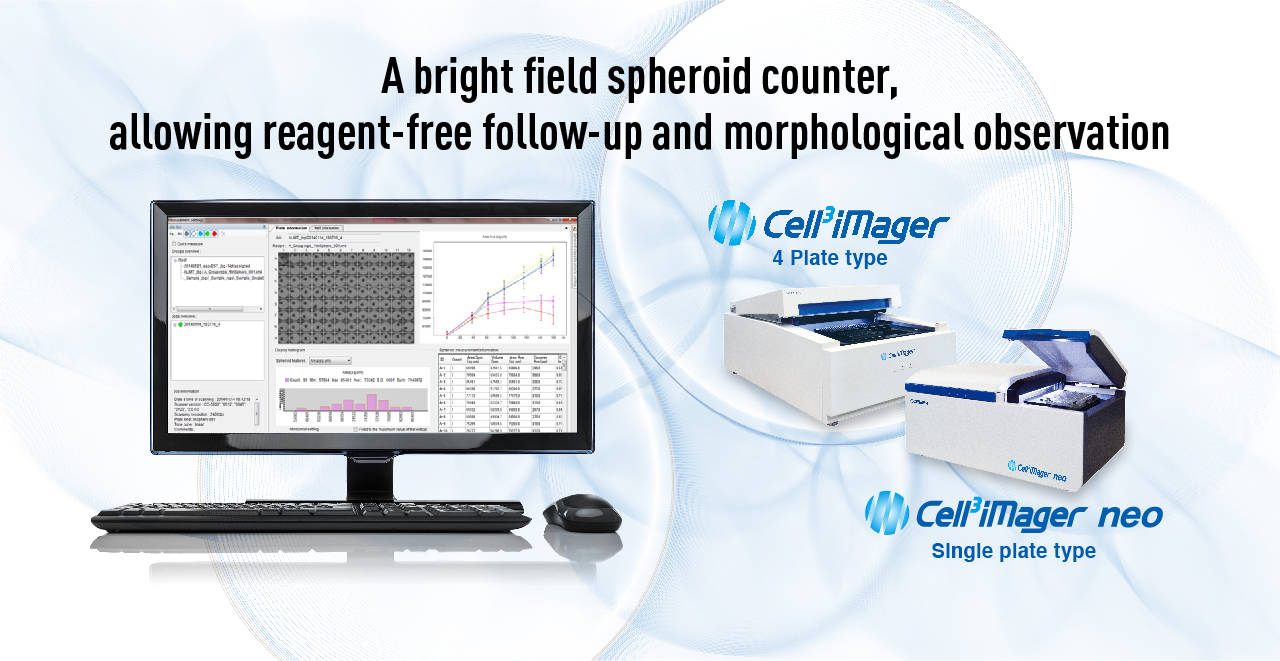 PRODUCT
Quantification of 3D cultured cells in just 90 seconds
Bright-field, label-free, non-invasive measurement
Automatic imaging and quantification at a reasonable price
High-throughput imaging

Label-free analysis enables continuous observation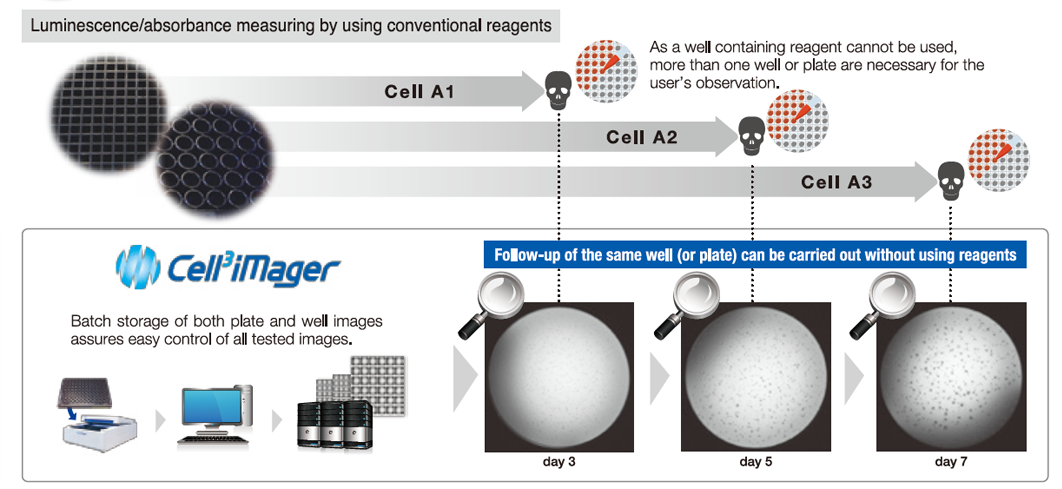 Affordable and Automated Imaging
FEATURES
High-throughput imaging
Rapid quantification of 96 wells in 90 seconds
High speed imaging and high speed analysis make 3D cultured cell quantification more accurate and efficient.
In addition, it supports automation, allowing users to build a workflow that suits them, such as scanning first and analysis later.
Imaging system specialized for 3D culture
All-in-focus images, which are synthesized from images captured at multiple depths of focus, can be used to analyze cells scattered in the thickness direction.
Integrating information in the thickness direction allows accurate quantification of three-dimensional cultures, such as agar and floating culture systems.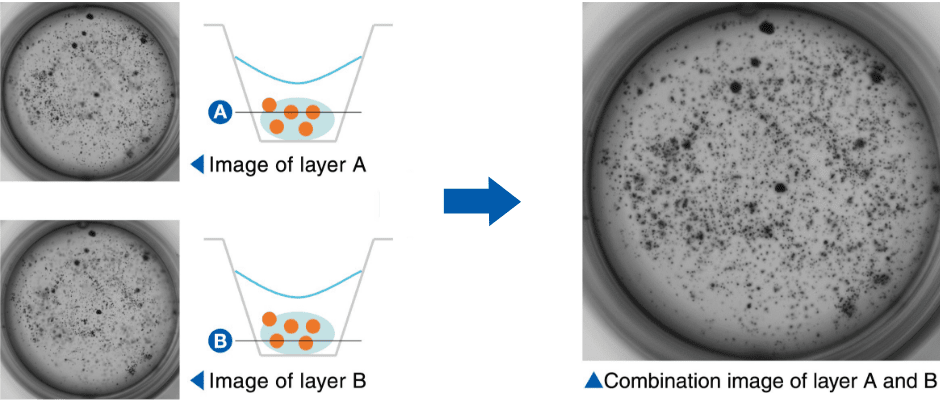 High correlation with ATP assay
Software and transillumination provide accurate supplementation to spheroids around the wells and analogize the volume value of spheroids.
Time course statistics
Different culture environments and compound test patterns can be grouped in a well plate.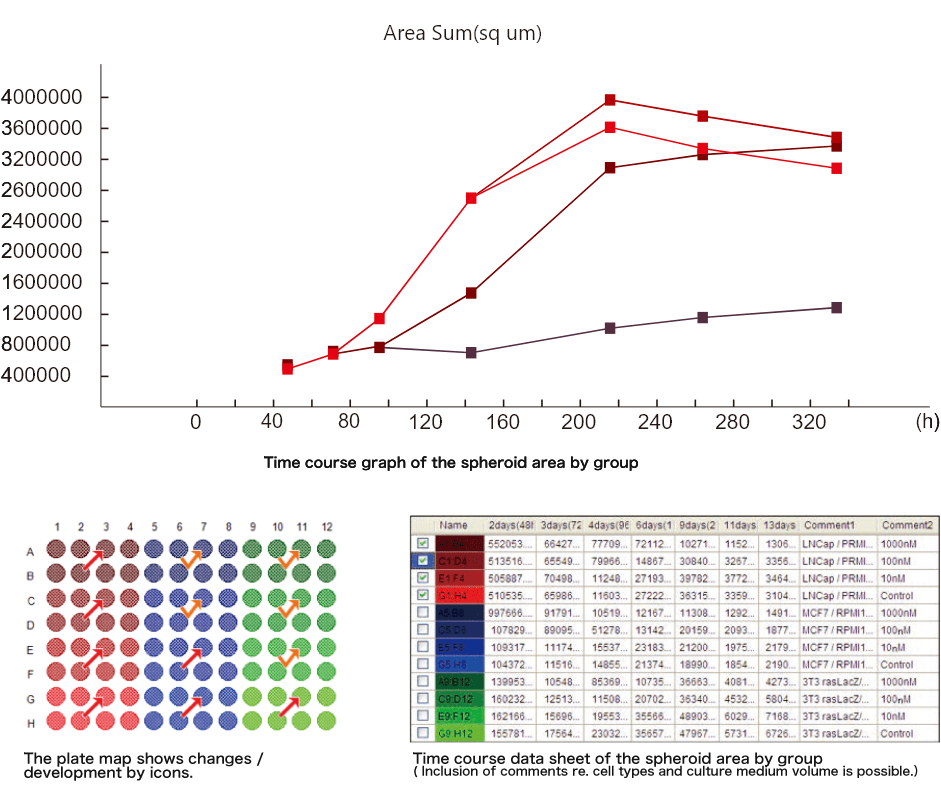 Selectable scan resolution
Adjustable scanning accuracy from 200 dpi to 9600 dpi (2.6 μm/pixel) to match the sample and analysis speed(7 levels: 200, 300, 600, 1200, 2400, 4800, 9600 dpi)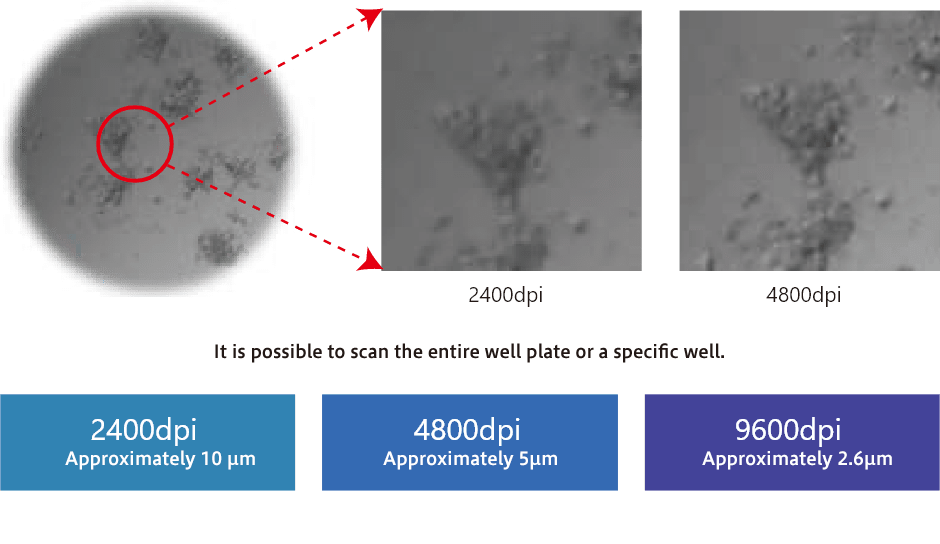 Software for 3D Culture
Multi-focus scanning in the Z-axis ensures that no cells are missed, even in 3D cultures such as gel-embedded cultures.
Supports a variety of analytical screening such as kinetic analysis and temporal analysis.
More than 30 parameters are employed to accurately separate the sample signal from the artificial signal.
This enables accurate extraction and viability determination of cultured cells.
Supports quantification of single spheroids and multiple spheroids.
APPLICATION
Rapid production and size assessment of Embryoid Bodies ( EBs )

Simplify formation of EBs with GravityPLUS™ hanging drop plates and Cell3 iMager analysis

Colony-forming units assay

Cell3iMager neo is useful for 'colony formation assay' stained by crystal violet

3D Cell Culture in Gravity TRAPTM

Spheroids formed by the method of hanging drop were moved to Gravity TRAPTM ULA plate, and quantified by Cell3iMager neo.
Publication
 

Gamma-Mangostin Isolated from Garcinia mangostana Suppresses Colon Carcinogenesis and Stemness by Downregulating the GSK3β/β-Catenin/CDK6 Cancer Stem Pathway

Alexander THWu ,Yuan-ChiehYeh ,Yan-JunHuang ,NtlotlangMokgautsi ,BashirLawal ,Tse-HungHuang
Phytomedicine Available online 21 October 2021, 153797 DOI:https://doi.org/10.1016/j.phymed.2021.153797

 
 

speedingCARs: accelerating the engineering of CAR T cells by signaling domain shuffling and single-cell sequencing

Raphaël B. Di Roberto, ProfileRocío Castellanos-Rueda, Fabrice S. Schlatter, Darya Palianina, ProfileOanh T. P. Nguyen, Edo Kapetanovic, ProfileAndreas Hierlemann, ProfileNina Khanna, ProfileSai T. Reddy
biorxiv Posted August 23, 2021. doi: https://doi.org/10.1101/2021.08.23.457342

 
 

Hypoxia-targeted cupric-tirapazamine liposomes potentiate radiotherapy in prostate cancer spheroids

Vera L.Silva, AmaliaRuiz ,AhlamAli ,SaraPereira ,JaniSeitsonen ,JanneRuokolainen ,FionaFurlong ,JonathanCoulter Wafa' T.Al-Jamal
International Journal of PharmaceuticsVolume 607, 25 September 2021, 121018 doi:https://doi.org/10.1016/j.ijpharm.2021.121018

 
 

Differential Angiogenic Potential of 3-Dimension Spheroid of HNSCC Cells in Mouse Xenograft

So-Young Choi ,Soo Hyun Kang ,Su Young Oh ,Kah Young Lee ,Heon-Jin Lee ,Sangil Gum ,Tae-Geon Kwon ,Jin-Wook Kim ,Sung-Tak Lee ,Yoo Jin Hong ,Dae-Geon Kim and Su-Hyung Hong
Int. J. Mol. Sci. 2021, 22(15), 8245; https://doi.org/10.3390/ijms22158245 Published: 31 July 2021

 
SPECIFICATIONS
Product name (Code)
Cell3iMager (CC-5000)
Cell3iMager neo (CC-3000)
Channel
Bright field
Light source
Wite LED transmission illuminations
Camera
CCD line sensor (4096 elements)
Lenses
Original low-depth-of-field lens
Resolution
200dpi,300dpi,600dpi,1200dpi,2400dpi,4800dpi,9600dpi
Auto focus
Image contrast software auto focus
Image output
8bit mono
Placement environment
temperature 18-28℃, humidity 80% or less, no condensation
Transport conditions
Packaged: 0-55℃, humidity 80% or less, no condensation
Culture container
6・12・24・48・96・384 microwell plate
(Compatible with almost all SBS standard plates) /
35・60mm dish, slide glass
(Optional adapter required)
6・12・24・48・96・384 microwell plate
(Compatible with almost all SBS standard plates) /
35・60・100mm dish, 25cm2 flask, slide glass
(Optional adapter required)
Power supply
AC100-240V / 250VA
Size and Weight
W492 x D775 x H294 mm / 40kg
W594 x D381 x H294 mm / 25kg
Software
Dedicated Cell3iMager software, includes as standard
Plate number
4
1
Designated computer with confirmed operation
HP Elite Desk 800 , OS: Windows10
Product name (Code)
Channel
Light source
Camera
Lenses
Resolution
Auto focus
Image output
Placement environment
Transport conditions
Culture container
Power supply
Size and Weight
Software
Plate number
Designated computer with confirmed operation
Cell3iMager (CC-5000)
Bright field
Wite LED transmission illuminations
CCD line sensor (4096 elements)
Original low-depth-of-field lens
200dpi,300dpi,600dpi,1200dpi,2400dpi,4800dpi,9600dpi
Image contrast software auto focus
8bit mono
temperature 18-28℃, humidity 80% or less, no condensation
Packaged: 0-55℃, humidity 80% or less, no condensation
6・12・24・48・96・384 microwell plate
(Compatible with almost all SBS standard plates) /
35・60mm dish, slide glass
(Optional adapter required)
AC100-240V / 250VA
W492 x D775 x H294 mm / 約40kg
Dedicated Cell3iMager software, includes as standard
4
HP Elite Desk 800 , OS: Windows10
Cell3iMager neo (CC-3000)
6・12・24・48・96・384 microwell plate
(Compatible with almost all SBS standard plates) /
35・60・100mm dish, 25cm2 flask, slide glass
(Optional adapter required)
W594 x D381 x H294 mm / 25kg
1