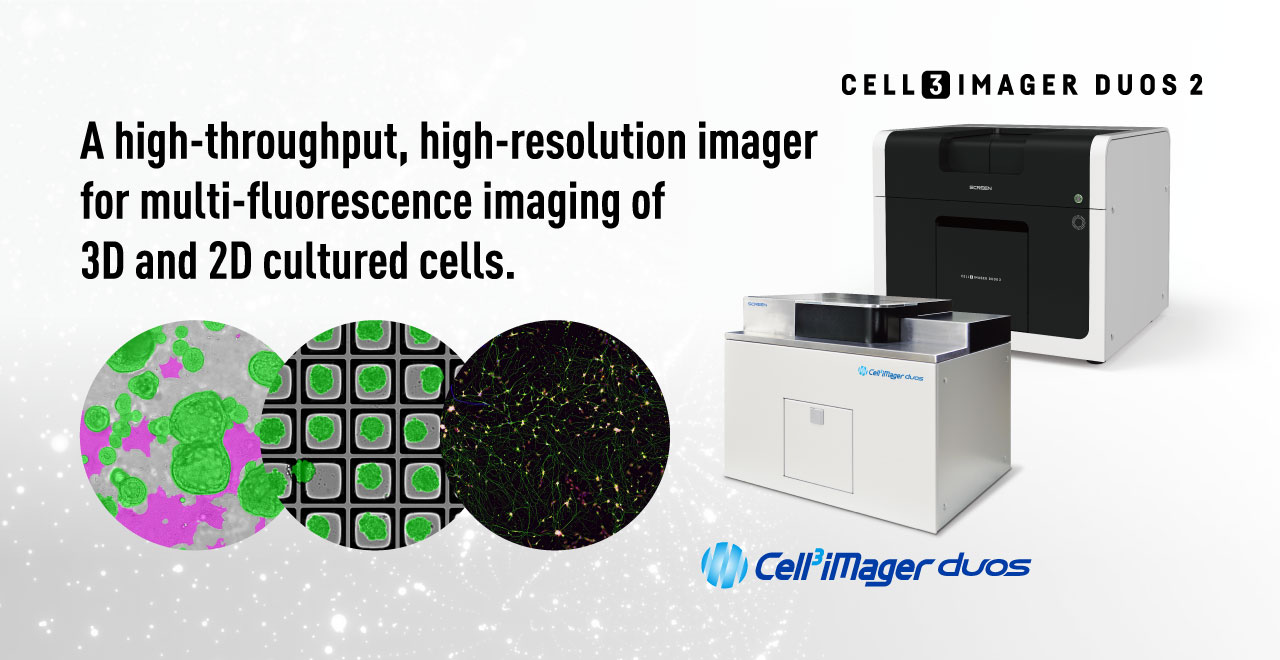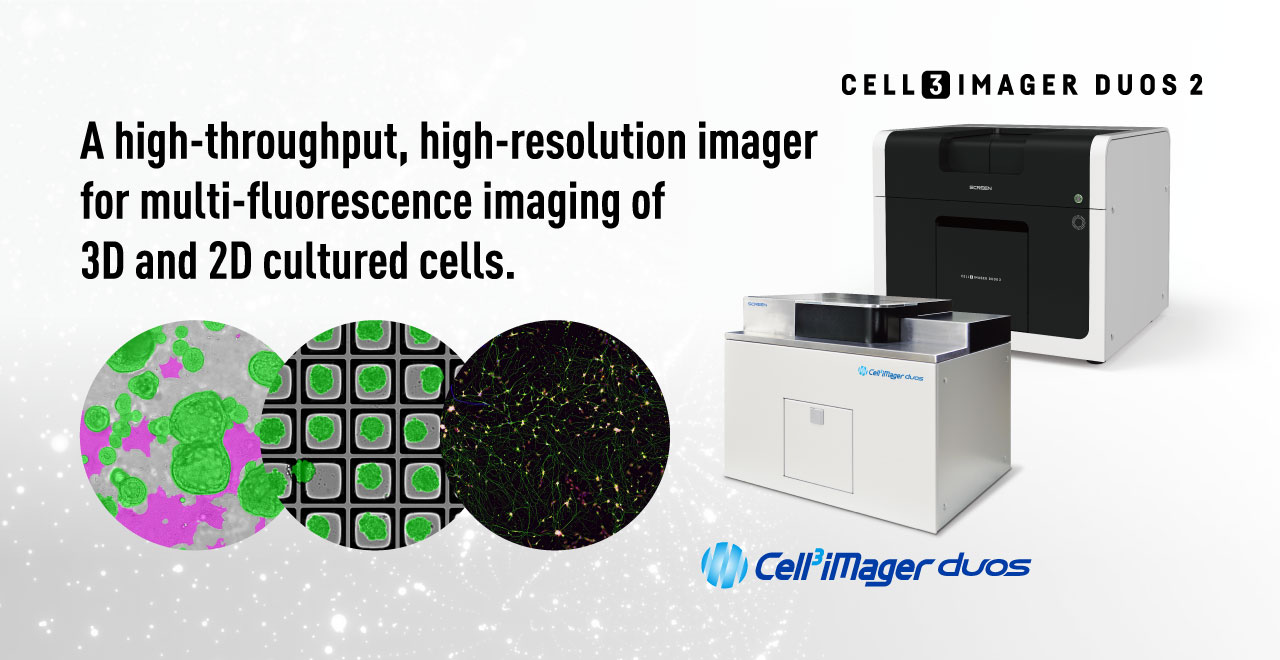 PRODUCT
High throughput
96-well plates can be imaged in about 60 seconds and analyzed in about 30 seconds.
In addition, automatic capture of up to 200 plates per day is possible by connecting external devices such as plate stackers and incubators with a plate transfer robot.
3D cultured cells
3D cultured cells can be analyzed with Z-stacking imaging and focus composition functions. Even cells scattered in the height direction can be captured clearly.
Deep Learning Cell Segmentation
Deep learning image processing enables "researcher's eye" segmentation of target cells. Accurate quantification is possible even for segmentation by cell morphology and high confluency, non-uniform images.
Multi-fluorescence imaging
Fluorescent color and bright field are automatically and continuously captured.
5 types of fluorescent filters are available.
FEATURES
Meniscus-less
Less meniscus and clear imaging even at the peripheral area
Unique hyper-centric and tele-centric optical systems enables
a high-resolution imaging of whole well including the marginal area of well
Lens have 2 resolution which has 0.8um/pix and 4um/pix
Equipped with high accurate extraction algorithm even cells soon after seeing
High speed mode provide 60 sec/ 96 well plate and 70 sec/ 384 well plate

3D cellular imaging
Equipped with a proprietary lens with a deep depth of field suitable for 3D cultured cell imaging and illumination
Z-stacking imaging and focus composition functions
Compatible with F-bottom, V-bottom, U-bottom, various SBS formats and microwell plates as standard
Functional specialty plates such as plates for 3D culture, Corning® Elplasia® (Corning Japan) and EZSPHERE (AGC Techno Glass Co., Ltd.) are also available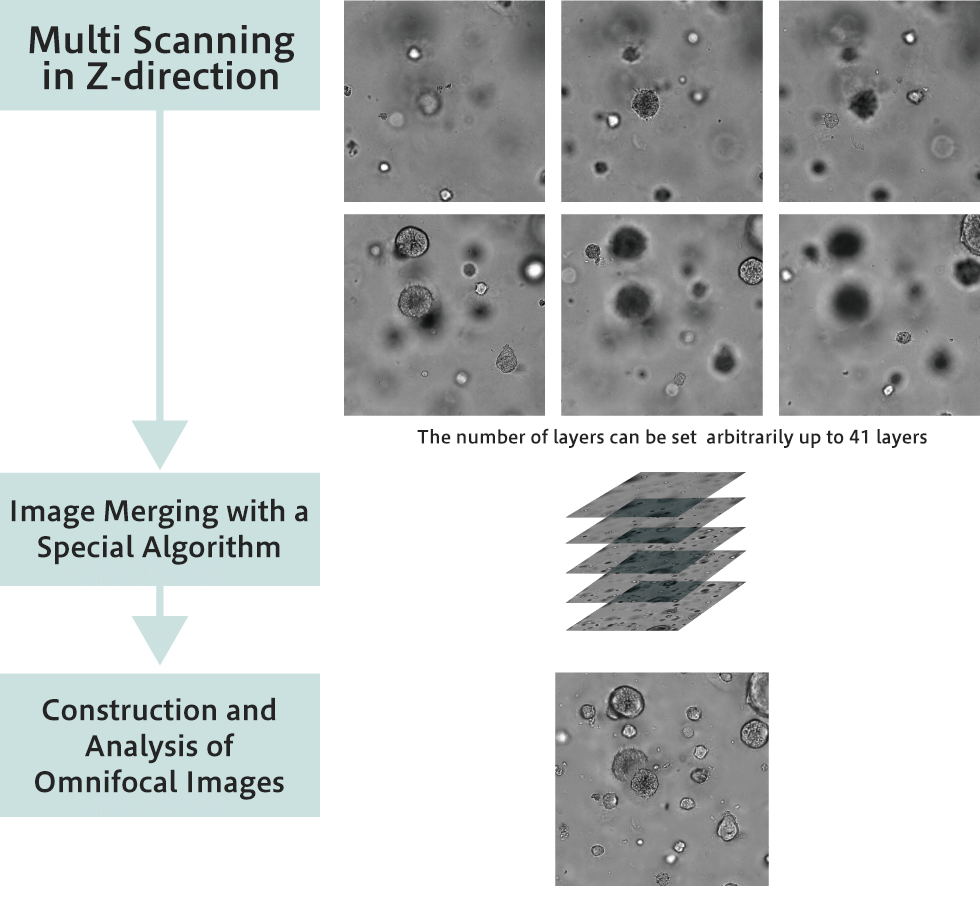 Deep Learning Plug-in (optional)
Deep Learning to extract and quantify only grown organoids
High confluence and non-uniform images can be accurately extracted and measured using Deep Learning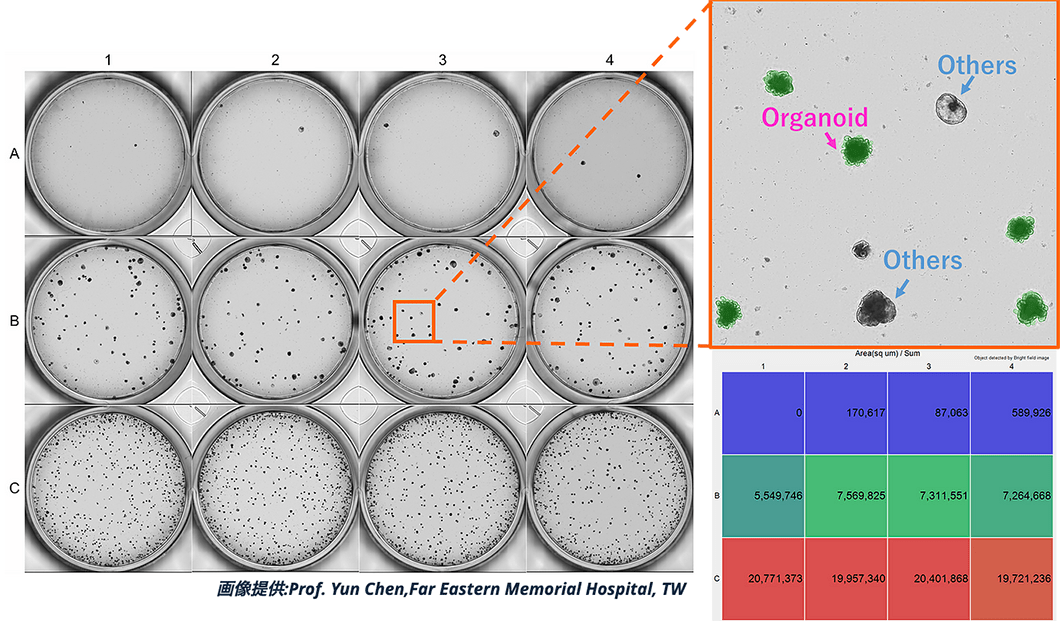 Multi-fluorescence imaging
Multi-fluorescence imaging and analysis
Bright field and 3 fluorescent colors* are automatically and
continuously imaged with the simultaneous loading of LED fluorescent filter     * Cell3iMager duos2 only
Line up of 5 types of fluorescent filters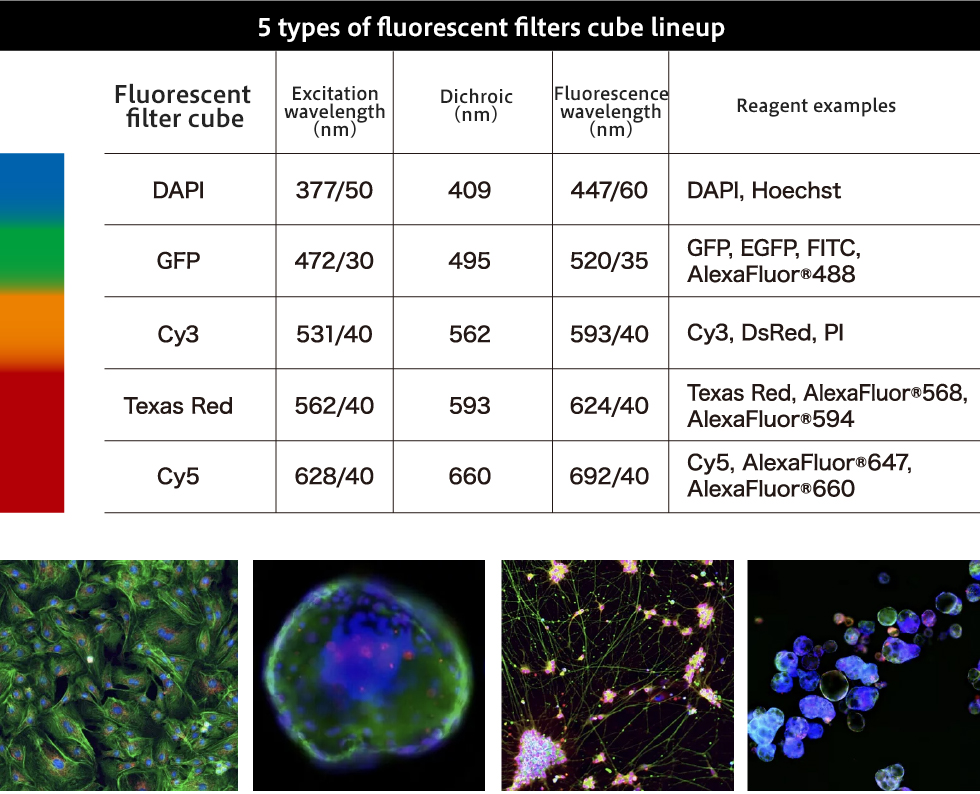 Automation system
Automation by connecting external devices such as plate stacker and incubator with a plate transfer robot
Automatically captures up to 200 images per day by robotization, streamlining a complicated workflow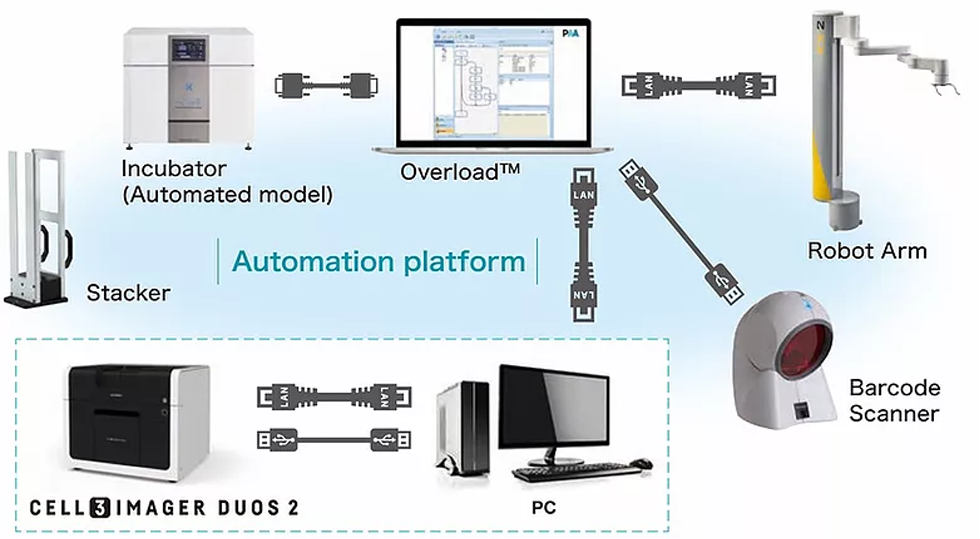 Neurite elongation plug-in (optional)
Multi-object analysis, such as neurite elongation, is provided as a plug-in software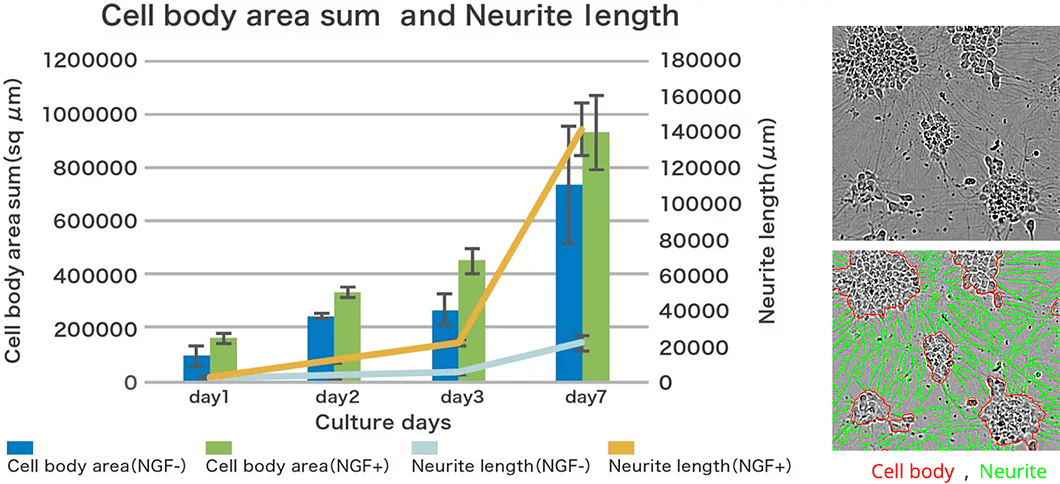 Publication
 

Novel bone microenvironment model of castration‑resistant prostate cancer with chitosan fiber matrix and osteoblasts

Masahiro Samoto Hideyasu Matsuyama Hiroaki Matsumoto Hiroshi Hirata Koji Ueno Sho Ozawa Junichi Mori Ryo Inoue Seiji Yano Yoshiaki Yamamoto Jun Haginaka Shizuyo Horiyama Koji Tamada
August 1, 2021 https://doi.org/10.3892/ol.2021.12950 Oncology Letters Article Number: 689

 
 

Mammary cell gene expression atlas links epithelial cell remodeling events to breast carcinogenesis

Kohei Saeki, Gregory Chang, Noriko Kanaya, Xiwei Wu, Jinhui Wang, Lauren Bernal, Desiree Ha, Susan L. Neuhausen, and Shiuan Chen
Commun Biol. 2021; 4: 660. Published online 2021 Jun 2. doi:10.1038/s42003-021-02201-2

 
 

Lactate Reprograms Energy and Lipid Metabolism in Glucose-Deprived Oxidative Glioma Stem Cells

Noriaki Minami ORCID,Kazuhiro Tanaka ,Takashi Sasayama ,Eiji Kohmura ORCID,Hideyuki Saya andOltea Sampetrean
Metabolites 2021, 11(5), 325; https://doi.org/10.3390/metabo11050325 Published: 18 May 2021

 
APPLICATION
NK cell killing against 2D/3D-cultured cancer cells

In recent years, NK (Natural Killer) cells have been attracting attention in the fields of drug discovery development and cancer research. NK cells are a type of lymphocyte that works in innate immunity and play a major role in the removal of tumor cells and virus-infected cells.
By using Cell3iMager duos / duos2 and Deep Learning Plug-In, you will be able to perform a long-term Killing Assay. Since the imager uses a plate-fixed imaging method, clear imaging is possible even for suspended-cultured NK cells and 3D-cultured cancer cells.

Imaging and Deep Learning based analysis of neurite outgrowth

With this study we conclude that Cell3iMager duos imaging technology in conjunction with deep learning is highly suited for delineating various biological processes using sympathetic neurons derived from hiPSC. Additionally, the platform can be used for identifying drug entities that could stimulate or block neuronal outgrowth. The analysis by deep learning accurately detects cells and is highly robust compared to traditional analyses even if there are differences in brightness or in the presence of debris.

Label free imaging and analysis of organoids using Cell3iMager

Cell3iMager duos / duos2 technology is highly suited for brightfield/fluorescence imaging of 3D cultured organoids. We conclude that the Label-free analysis is highly advantageous and could substitute microscopic method of monitoring of organoid growth processes, as segmentation of each organoid shape is possible using Deep Learning. Similarly, label-free analysis may also substitute ATP assays, toxicity assessments performed by fluorescent staining, and FIS assays.

Single cell cloning using Hybridoma

Isolation of single cell derived clone with Duos superior imaging technology.

Single Cell Cloning

Utility of Cell3iMager duos imaging platform for isolation and assessment of single cell derived clone

Counting fluorescence stained adherent cells

The cell density that stepwise cell number seeding, was quantyfied by using Cell3iMager duos.

Evaluation of hypoxia level in 2D/3D-cultured cells

Hypoxia level of 2D/3D-cultured cells was evaluated by using Cell3iMager duos.

Neuronal Differentiation

Differentiation efficiency of β-NGF-treated PC12 was evaluated by using Cell3iMager duos.

Analysis of spheroids in microwells (EZSPHERE® plate)

Spheroids were cultured with EZSPHERE® PLATE and analyzed using Deep Learning plug-in.

Live/Dead Assay

Cell viability in the presence of drug is calculated by using Calcein-AM/PI-double staining.

Cell Viability and Cytotoxicity Assay

Viability of anti-cancer drug treated cells is quantified by using Cell3iMager duos.

3D Cell Culture by using FCeM®

Multi spheroids cultured in FCeM-medium were quantified by using Cell3iMager duos.

Assessing the growth of 3D spheroids cultured in Matrigel®

Visualisation and Quantification of spheroid volumes cultured in Cell3iMager duos.

Confluency

The cell density that stepwise cell number seeding, is quantified by using Cell3iMager duos.

Suspension cultured cells

Suspension cultured cells were quantified by using Cell3iMager duos.

3D Invasion Assay

Invasiveness of MCF-7 (low malignant tumor) and MDA-MB-231 (high malignant tumor ) cells are compared by using Cell3iMager duos.

Anti-Cancer Drug Screening

Anti-cancer drug screening in TCF4/LEF reporter (GFP) -expressing cells is performed by using Cell3iMager duos.

Label free analysis of spheroids in microwells (Corning® Elplasia® Plates)

Spheroids in microwells of Corning®Elplasia® plate made by Corning are scanned and measured by Cell3iMager duos.

Cell Proliferation

Proliferation ratio of the 2D/3D cultured cells is quantified by Cell3iMager duos.

Label free colony-forming units assay

We performed the labeled-free colony formation assay using Cell3iMager duos.

Deep Learning for cell classification

Jarkat cells induced cell death by Anti-Fas antibody were classified by Cell3iMager duos and Deep Learning.

Label free analysis of spheroids in microwells (Corning® Elplasia® Plates)

Spheroids in microwells of Corning®Elplasia® plate made by Corning are scanned and measured by Cell3iMager duos.
Publication
Suspension culture in a rotating bioreactor for efficient generation of human intestinal organoids

Junichi Takahashi Tomohiro Mizutani HadyYuki Sugihara Sei Kakinuma Mamoru Watanabe Ryuichi Okamoto
DOI:https://doi.org/10.1016/j.crmeth.2022.100337
Summary
Human intestinal organoids (HIOs) derived from human pluripotent stem cells (hPSCs) hold great promise for translational medical applications. A common method to obtain HIOs has been to harvest floating hindgut spheroids arising from hPSCs. As this technique is elegant but burdensome due to the complex protocol and line-to-line variability, a more feasible method is desired. Here, we establish a robust differentiation method into suspension-cultured HIOs (s-HIOs) by seeding dissociated cells on a spheroid-forming plate. This protocol realizes the reliable generation of size-controllable spheroids. Under optimized conditions in a rotating bioreactor, the generated spheroids quickly grow and mature into large s-HIOs with supporting mesenchyme. Upon mesenteric transplantation, s-HIOs further mature and develop complex tissue architecture in vivo. This method demonstrates that intestinal tissue can be generated from iPSC-derived HIOs via suspension induction and bioreactor maturation, establishing a reliable culture platform with wide applications in regenerative medicine.

Derivation of pancreatic acinar cell carcinoma cell line HS-1 as a patient-derived tumor organoid

Daisuke Hoshi,Emiri Kita,Yoshiaki Maru,Hiroyuki Kogashi,Yuki Nakamura,Yasutoshi Tatsumi,Osamu Shimozato,Kazuyoshi Nakamura,Kentaro Sudo,Akiko Tsujimoto,Ryo Yokoyama,Atsushi Kato,Tetsuo Ushiku,Masashi Fukayama,Makiko Itami,Taketo Yamaguchi,Yoshitaka Hippo
https://doi.org/10.1111/cas.15656

Abstract
Acinar cell carcinoma (ACC) of the pancreas is a malignant tumor of the exocrine cell lineage with a poor prognosis. Due to its rare incidence and technical difficulties, few authentic human cell lines are currently available, hampering detailed investigations of ACC. Therefore, we applied the organoid culture technique to various types of specimens, such as bile, biopsy, and resected tumor, obtained from a single ACC patient. Despite the initial propagation, none of these organoids achieved long-term proliferation or tolerated cryopreservation, confirming the challenging nature of establishing ACC cell lines. Nevertheless, the biopsy-derived early passage organoid developed subcutaneous tumors in immunodeficient mice. The xenograft tumor histologically resembled the original tumor and gave rise to infinitely propagating organoids with solid features and high levels of trypsin secretion.Moreover, the organoid stained positive for carboxylic ester hydrolase, a specific ACC marker, but negative for the duct cell marker CD133 and the endocrine lineage marker synaptophysin. Hence, we concluded the derivation of a novel ACC cell line of the pure exocrine lineage, designated HS-1.
SPECIFICATIONS
Product name (Code)
Cell3iMager duos2(CC-8300)
Cell3iMager duos(CC-8000)
Channel
Bright field and 3 Colors of Fluorescence
Bright field and 1 Colors of Fluorescence
Bright field light source
White LED strobes
White LED strobes
Camera
CMOS 4.2 megapixel color
CMOS 4.2 megapixel color
Lenses
Original hypercentric lens (High-speed mode)
Original telecentric lens (High-quality mode)
Original hypercentric lens (High-speed mode)
Original telecentric lens (High-quality mode)
Resolution
4.0μm/pixel (High-speed mode)
0.8μm/pixel (High-quality mode)
4.0μm/pixel (High-speed mode) /
0.8μm/pixel (High-quality mode)
Auto focus
HW: Laser type real time auto focus
SW: Image contrast software auto focus
HW: Laser type real time auto focus
SW: Image contrast software auto focus
Image output
24bit color (8bit×3)
24bit color( 8bit×3)
Fluorescent filter type
DAPI, GFP, Cy3, Texas Red, Cy5
-
Fluorescent light source (excitation wavelength)
-
U : 384nm , B : 470nm , G : 530nm , Y565nm , R : 625nm
Internal temperature
35℃±2℃ automatic adjustment, during the power is on
35℃±2℃ automatic adjustment, during the power is on (optional)
Placement environment
temperature 18-28℃, humidity 80% or less, no condensation
temperature 18-28℃, humidity 80% or less, no condensation
Transport conditions
Packaged: 0-55℃, humidity 80% or less, no condensation
Packaged: 0-55℃, humidity 80% or less, no condensation
Culture container
6・12・24・48・96・384 microwell plate (Compatible with almost all SBS standard plates)
35・60・100mm dish, slide glass (Optional adapter required)
6・12・24・48・96・384 microwell plate (Compatible with almost all SBS standard plates)
35・60・100mm dish, slide glass (Optional adapter required)
Power supply
AC100-240V / 250VA
AC100-240V / 250VA
Size and Weight
W677xD580xH550 mm / 111 kg
W677 x D570 x H550 mm / 110kg
Software
Dedicated Cell3iMager software, includes as standard
Dedicated Cell3iMager software, includes as standard
Designated computer with confirmed operation
HP Z4 G4 workstation( SCREEN designated configuration), OS: Windows10
HP Z4 G4 workstation( SCREEN designated configuration), OS: Windows10
Product name (Code)
Channel
Bright field light source
Camera
Lenses
Resolution
Auto focus
Image output
Fluorescent filter type
Fluorescent light source (excitation wavelength)
Internal temperature
Placement environment
Transport conditions
Culture container
Power supply
Size and Weight
Software
Designated computer with confirmed operation
Cell3iMager duos2
(CC-8300)
Bright field and 3 Colors of Fluorescence
      
White LED strobes
      
CMOS 4.2 megapixel color
      
Original hypercentric lens (High-speed mode)
Original telecentric lens (High-quality mode)
      
4.0μm/pixel (High-speed mode)
0.8μm/pixel (High-quality mode)
      
HW: Laser type real time auto focus
SW: Image contrast software auto focus
      
24bit color (8bit×3)
 
DAPI, GFP, Cy3, Texas Red, Cy5
-
      
35℃±2℃ automatic adjustment, during the power is on
      
temperature 18-28℃, humidity 80% or less, no condensation
  
Packaged: 0-55℃, humidity 80% or less, no condensation
      
6・12・24・48・96・384 microwell plate (Compatible with almost all SBS standard plates)
35・60・100mm dish, slide glass (Optional adapter required)
      
AC100-240V / 250VA
 
W677 x D580 x H550 mm / 111kg
      
Dedicated Cell3iMager software, includes as standard
      
HP Z4 G4 workstation( SCREEN designated configuration), OS: Windows10
Cell3iMager duos
(CC-8000)
      
-
      
U : 384nm , B : 470nm , G : 530nm ,
Y565nm , R : 625nm
      
35℃±2℃ automatic adjustment, during the power is on (optional)
      
W677 x D570 x H550 mm / 110kg